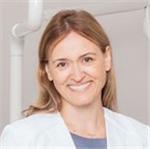 Maria Karpov, DMD
Orthodontist
About
Our mission is to provide the highest quality orthodontic treatment for our patients and the create a positive experience throughout the process. Orthodontics is the branch of dentistry that specializes in the diagnosis, prevention and treatment of dental and facial irregularities. The practice of orthodontics requires professional skill in the design, application and control of corrective appliances to bring teeth, lips and jaws into proper alignment, but tooth alignment and bite correction. The aim of our orthodontic treatment is to produce a healthy, functional bite, creating greater resistance to disease and improving personal appearance. This contribution to mental and physical well being of out patients.
Education

University of Pennsylvania School of Dental Medicine
Memberships

Dr. Karpov is a Diplomate of the American Board of Orthodontics and an active member of several professional organizations including the American Association of Orthodontics, the American Dental Association, and the New York County Dental Society. Dr. Maria Karpov has also lectured on several topics in Orthodontics.